The home page has a main menu which offers three paths for interactive consultation of text files and images of the website as well as an additional tools listed below.
The cross use of paths "Venice, World Heritage", "Venice, dialogue between cultures" and "Venice, which future?" gives the possibility to capture the cultural syncretism of Venice and the constant concern of the authorities responsible for maintenance of water conservation.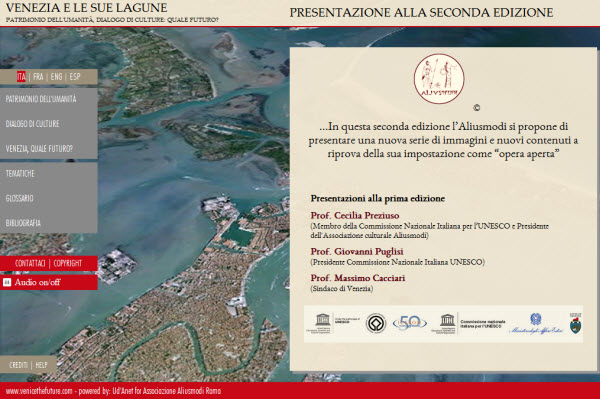 The user can select the path which is interested in and browse at will to discover its contents or go directly to the menu of the different topics listed in order of relevance of content, to choose the one he wants.
The first discovery path "Venice, World Heritage" contains a number of editorial and authorial files accompanied by its visual repertoire, introducing Venice's millennial history, from the early days of the Venetian Republic (the "Serenissima") in the 5th Century to the present day: its monuments, traditions, crafts and life in general. In this section, the contents are organized by historical periods and, subsequently, by topic.
The second path, "Venice, dialogue between cultures", shows some of the reasons which brought the Serenissima in contact with other cultures and which led to the acceptance of other people and dialogue with them.
The third route, "Venice, which future?", introduces the origin of the interest of UNESCO to the fortune of Venice, in search of problems present in Venetian reality, plus an analysis of institutional projects currently underway aimed at preserving Venice's cultural and artistic heritage. Each article has been written by highly qualified experts in various scientific and humanities disciplines.
The home page also contains other clickable menu useful to navigate around the website and consult its contents: such as:
The themes that offer navigation for topics of interest and for historical periods.
The glossary and Bibliography;
The research in the full-text content type allows viewing content for key words or phrases that are longer than three characters, proposing an alphabetical list;
The map provides a total of places Venice location using Google map, it is possible to navigate and zoom the map, select a site and consult the data sheet;
The help page contains a brief description of the navigation of the site, while credits page shows information about the authors and the contents of the site.
A useful tool for consulting work is the language bar, able to translate the content and the navigation system in the chosen language.
The contact button allows you to communicate with us.